Nash Metropolitan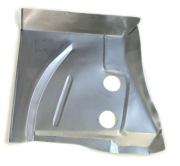 PN
PART DESCRIPTION
CLICK ON ANY PICTURE TO ENLARGE
PRICE
N1L
N1R
Lower Front fender Repair: Goes from door opening to front wheel opening.
$105
N2
Rocker Panel Repair. Made from Original 18 Gauge Steel
$105
N3L
N3R
Rear Quarter Front Section Repair. Goes from door opening to wheel opening
$105
N7L
N7R
Front Floors. Price is for each side.
$205
N8L
N8R
Rear Floors Price is for each side.
$190
N11L
N11R
Door Skin Repair. This covers the bottom 10" and includes a 1/2" lip around the edges that can be easily hammered flat once the skin is on the frame.
$67.50
N13
Rear Valence Panel: Comes in 2 pieces
$300
N14
Front Valence Panel
$325
N15L
N15R
Rear Quarter Panel Repair: Goes from door opening and wraps around rear corner.
$295
N16
Rear Cross Member
$425
We can make more panels for this car if you are willing to send patterns for the parts you need. Please contact us for further details.

Call prior to returning parts
CANADA: Wolf Steel 1 Ballerina Frelighsburg, QC J0J 1C0 International customers: Please have a look at our Shipping Info page for important information.

TEL: (450) 298-5078
email